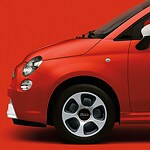 The technology we see on the Fiat 500e at DCH Auto Group is impressive and adds to the exterior styling that helps keep you looking good and as safe as possible as you drive.
There are many pieces of technology for you to enjoy when you take a look at the Fiat 500e, including those that make the exterior of your car as safe as possible. For the majority of you, the technology will make the exterior of your new car a little safer with an audible pedestrian warning system that makes it easier to drive around the city without any issues. If you are wanting to enjoy the thrills and experience of the outdoors as you drive, the available sunroof can open or tilt to allow the fresh air of outdoors to flood through your Fiat.
These features add up to a Fiat 500e that you can be proud to drive on a daily basis.